Gold Coast Carpet Cleaning and Window Cleaning do more than just clean. We are also respected and highly professional Gold Coast pest control agents licensed to supply pest control services to the Queensland. Our pest control services are supplied to the Gold Coast from Beenleigh to Coolangatta.
If you've got creepy crawlies roaming throughout your house, call Tim on 0402 234 422 for a free quote.
Gold Coast Pest Control
spiders
cockroaches
ants
silverfish
bed bugs
anything but termites!
internal
external
Gold Coast Rodent Control
Rodents are no problem for us, and they shouldn't be for you! Our locked rodent boxes are safe for you, your children and pets. If you've got a rodent in your wall cavities, we can remove those for you too.
locked rodent boxes
safe for children and pets
remove rodents from wall cavities
We can rid your Gold Coast home of spiders, cockroaches, ants, silverfish and bed bugs—whether they're inside your house or outside. The barrier will last for about 6 to 8 months, after which we'll call you to renew your pest protection so you're covered year round.
Gold Coast Pest Control for Fleas
As a licensed Queensland pest control agent we can rid your house of fleas. Our two-stage approach to fleas eliminates fleas and provides effective flea abatement for the entire house. Spays kill fleas but not the fleas eggs, which hatch in 21 days. First, we spray your house to kill the adult fleas. Second, we'll come back 21 days later to kill the next hatch (known as "deform fleas"). This ensure that all fleas no matter which stage of the cycle they're at have been removed from your Gold Coast home.
Gold Coast Flea Control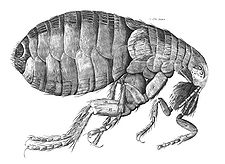 Flea control
Two stage process
Kill adult fleas
Kill fleas as they hatch
Pest Prices
Pest control $135.00
Our knowledgeable staff can give you the right advice and a free quote, so give us a call today! We're licensed, comply to safety standards and our products are safe for your pets and family.
Combine 2 or more of our cleaning and pest control services and we'll give you a 10% discount.
Any of the following services can be combined in a package:
Pensioners and seniors please enquire about our pensioner discounts. We're offering a 10% discount to all pensioners and seniors.We find that our prompt and courteous services are very popular with seniors. We're very thorough and know what pensioners require. Our general cleaning services are very popular for our care in cleaning ceiling fans, lights, range hoods and tops of fridges etc, high areas that are hard for our older customers to reach.